General Information and Scope of Services
The Attorney for Students advises currently registered Cal students regarding their legal questions, rights, and obligations.  A student legal consultation might include (but is not limited to) one of the following examples: a landlord-tenant dispute, a citation for a criminal infraction or misdemeanor, filing an action in California Small Claims Court, questions related to debt and/or collection actions, issues arising from a car accident or auto insurance, or questions about family law.
Please note that Student Legal Services provides counsel and guidance only, and does not represent or advocate for individual students with regard to their potential legal claims or disputes.  If your situation requires legal representation, the Attorney for Students will help refer you to appropriate resources.  Student Legal Services counsel and guidance is limited to California law only.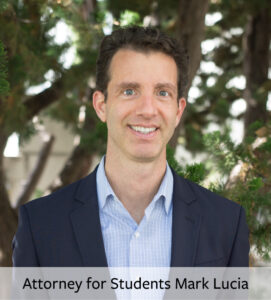 ---
Student Legal Services Conflict Policy
Because Student Legal Services is available to all currently registered UC Berkeley students (this does not include postdocs, extension students, or concurrent enrollment students), when a matter involves a potential dispute between two or more students, SLS can provide information only to the concerned parties (no strategic advice or advocacy). 
For more information about resolving disputes with other students, and potential resources if your dispute with another Berkeley student includes threats or harassment, please refer to this SLS tip sheet.
---
Making an Appointment/Preparing for Your Appointment
Please review the information and materials on the Student Legal Services website (including the Tip Sheets) before making an appointment – these resources may answer your questions.  For information specific to terminating/breaking a lease early, please first read this tip sheet and this informational memo.
If you received a Minor in Possession of Alcohol, Fake ID, or related ticket, please refer to this tip sheet.
If relevant to your questions, please review the above resources before making an SLS appointment.
Once you have reviewed this entire page, to make an appointment for a free and confidential 30-minute consultation, please use the SLS Online Appointment System.  If no appointments are available, please check back the next day.
Please note that SLS consultations are currently phone or Zoom appointments (but will be available at least partially in-person during the Fall 2021 semester). Please indicate the best phone number to reach you in the appointment form.
When you arrive for your appointment at 102 Sproul Hall (for in-person appointments), you will need to show your current Cal Photo ID.  Please also bring any relevant documents to your appointment – these would include items such as a lease, a ticket/citation received from police, a notice received from the court, a civil court summons, a demand letter from a creditor/collector, or a written contract/agreement.  All discussions and documents shared with SLS are strictly confidential.